Key takeaway
A leading retailer developed a whole new business model based on the discovery of behavioral patterns of their target consumers.
Marketers and product developers must understand consumer behavior to maximize effectiveness. However, traditional data collection methods like surveys and focus groups are costly and unreliable. Here's how a customer found a new business opportunity using mobile phone data.
The challenge
What's my consumer behavior?
Our client, a retail brand with presence in the Americas, wanted to understand how to create a fitting product offering for a specific target group: middle income women living in a particular neighborhood in Bogotá, Colombia. A traditional approach based on surveys and focus groups would be too costly and may not yield meaningful insights
Our approach
A massive focus group!
Leveraging the capabilities of Human Mobility, we mapped the behavior of the target audience in the chosen neighborhood. By processing data from over 35,000 consumers, we successfully uncovered a marked propensity towards using cooperative financial services for their day-to-day needs.
The results
A new business model was born...
Our customer decided to build a fintech focused on providing services for their target audience, which could, in turn, provide a new payment method for their current retail offer. Plus, by mapping the consumer journey, they were able to identify target locations for the development of marketing and business strategies.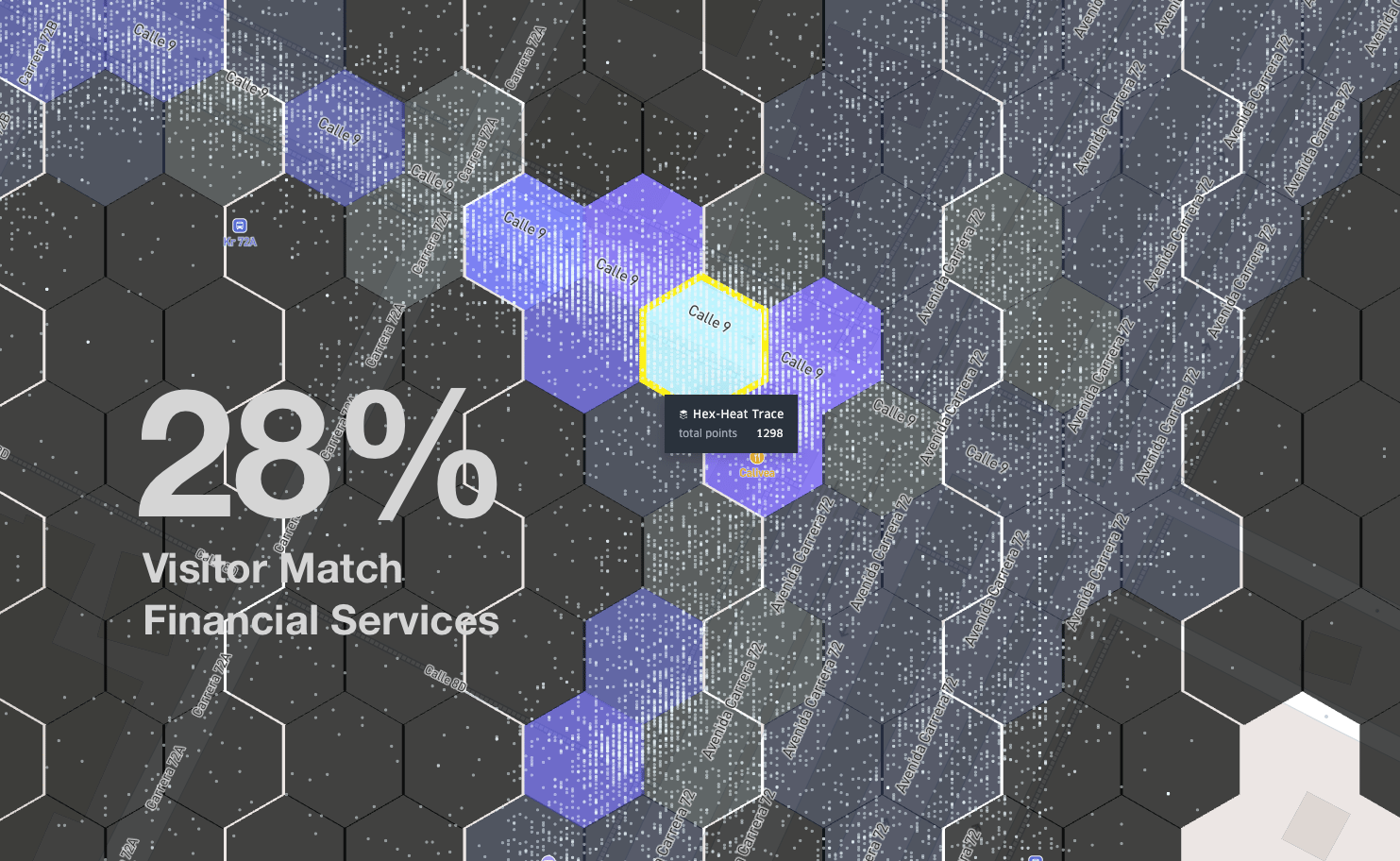 Our customer understanding methodology has been greatly enhanced. With the support of Human Mobility, our team has been able to adapt new technologies available in the market to our strategic pipeline, which has accelerated our growth and provided new opportunities for our team to experiment and address unmet needs in our markets.
-Head of Strategy
What is consumer journey mapping?
Consumer journey mapping is a method of understanding customer behavior by tracking their activities over time, thus allowing marketers and product developers to uncover unsolved user needs. It usually involves collecting data from various sources such as surveys, observational research methods and focus groups to analyze the consumer's preferences and patterns. By analyzing this data, marketers can better understand how consumers make decisions and create marketing plans that will maximize their effectiveness. However, this is typically a slow, costly and difficult process that often yields limited results.
Introducing Human Mobility, a powerful tool that delves into the complexity of understanding everyday human behavior.
Human Mobility offers a cost-effective and precise method to gain insights into consumer behavior by collecting anonymized data from mobile devices. By analyzing this data, marketers can obtain valuable insights into the when, where, and why of consumer decision-making.
Our approach not only helps identify the whereabouts of target audiences but -for certain locations- also provides details about their preferences, demographics, brand affinity, and interests. This comprehensive understanding enables leaders to make informed, data-driven decisions regarding product development and marketing strategies.